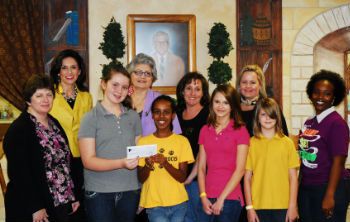 Bridging the Gap to Literacy
"For it is in giving that we receive."
~ Francis of Assisi

Golden Gate Society $1,000+

A & A Cleaning Services
A-Better Plumbing Co.
Bank of America
Barath, Joseph & Lillian
Beckman, Dave & Helen
Better World Books
Bludworth Marine LLC
Brask-Neela
Cameron Foundation
City of Pearland
Commmunity Foundation of Brazoria County
Cushing, George E.
Department of Homeland Security
Dollar General Literacy Foundation
Gallery Home Repair
Hamman Foundation


HEB Plus!
Houston Center for Literacy
Houston Endowment
JPMorgan Chase Foundation
Knodel, JoAnne
Koza, Susie
Literacy Texas
McFarland, Maggie
Region 4 Consortium
Sams Club - Shadow Creek
Shank, Denny
Steele, Robert & Erin
Stephens, Jennifer
United Way of Brazoria County
Wal-Mart - Dixie Farm Rd.
Walmart - Rowlett Rd. (Almeda)

Covered Bridge Society - $500+

Bludworth, Sheila
Carpenter, George W
Certa Pro Painters of Pearland
Chavarria, Mona
Coffman, Stew & Shirley
Comcast
Coppinger YMCA
Divinity Med Spa & Wellness LLC
Eastburn, Janet
Epiphany Lutheran Church
Hari, Josh & Cindy
Hilton Garden Inn Houston/Pearland
InnerDimensions
LHR Services and Equipment Inc.
Magnolia Tea Company
Munsch Hardt Kopf & Harr, P.C.


Nelson, Michel & Barbara
Ordeneaux Holdings
Pauls, Lisa J.
Prosperity Bank
Rivas-Stipes, Elissa
Rizzo, Janet
Ron Carter Automotive Center
Roth, Gerald "Jerry"
Shadow Creek Ranch
Shrum, Gary & Judy
SpaceCenter Systems
Starkenburg, Gordon & Linda
Toman Insurance Agency, LLC
Tutoring Club
United Way of Metropolitan Atlanta
Wiltz, Quentin P.

Foot Bridge Society - $100+

Abel Veterinary Services
Adams, Janet
Adams, Stacy & Michele
Alderson-Shields, Bambi L
Alvarez, Leanne
Angeli, Marcella
Best Coupon
Better World Books
Bittick, Katie
Brower, Bill
Bryant, Anna
Bryce, Carol
Buchanan, Matthew
Burton, Bobby & Carolyn
Bynum, Wendy
Cade, Ryan
CAP of Greater Pearland
Capital Bank
Carbone, Crystal
Cavazos, Ramiro
Cavazos, Rolando
Christensen, Kim & Kathleen Liscum
CL Davis & Company
Collins, Kelly
Conley, Angela
Cooman, Susan M.
Cowles, Bill & Linda
Crowder, Mark
David L. Smith Realty
Denoqui, Alicia
Duhon, Karen
Eisen, William & Janice
Foucheaux, Judy
Frost National Bank
Gerber, DeAnna
Graham, Angela
Greg Hill, Attorney, PLLC
Groh, D.S.
Halik, Carl & Paula
Hein, David
Hite, Linda L
Hometown Bank of Pearland
House, Paul & Martha
Houston Center for Literacy
Houston Community Bank
Ideno, Katherine
Idoux, Gary & Kelly
Irby, Desiree'
Island, Judy
Isothermal Protective Coatings
Jester, Martha C
Joe Cook & Associates, Inc.
JSC Federal Credit Union
Kelly, John & Janet
Klotz Associates


Knauth, Brandon
KTRK Television, Inc
Ladewig, Jeanette
Landis, Tori L.
Leigh, Terrence E. & Leona Irene
Lindberg, Bill & Barbara
Lindberg, Jane
Live Feedback Now
Magana, Carmen
Melancon, Melanie
Melass, Eric
Mercer Insurance Agency- Farmers
Meridian Fence & Security, L.P.
Meyers, Mary
MHM Consultant
Moncus, Patty
Monnerat, Georgia
Moore, Gary
Naiser, Gaylynn
O'Day Rental & Supply, Inc.
Ogg, K'nicole
Pearland Animal Hospital
Pearland ISD
Pearland Lumber Co., Inc.
Pearland State Bank
Perez, Mary Helen
Pillow, Rusty & Dale
Promotions For Success- C.R. Cooper
Ragsdale, Dorothy
Red Cat Jazz Bar
Reid, Thomas
Rickert, Lori
Ross, Lawrence & Irene
Scardino, Paula
Sebesta, Matt
Sheinberg, Eugenie
Sherman for Pearland
Silva-Carrera, Victoriana
Speech/Language Services of Silverlake
State Farm Agents of Pearland
Stevens, C B
Stover, Coletta
Telecom Pioneers
Texas Advantage Bank
Texas First Bank
Tompkins, Tim & Nancy
Truist
University General Hospital
VanCleve, Judy
Visiting Angels Living Assistance Service
Watson, Fay
Watson, Nyla P.
Winegarden, Diane
Wynn, Lorilyn

Stepping Stones - under $100

Abrahams, Thomas
Alvin-Manvel Area Chamber of Commerce
Amleh, Tawnia
Ashley, Rita B.
Austin, Laura & Robert
Aviles, Beulah Ethel
Bailey, Anna
Baker, Linda
Baker, Warrick
Barrett, Beverly
Bennett, Lorene
Boegler, Pamela
Bott, George & Lori
Brazoria County Alliance for Children
Brewton, K
Brooks, Caroline
Brownstein, Ron & Lesa
Canales, Rosie
Carter, Denise
Cashiola, Mike
Castillo, Patricia
Cavazos Electric
Cessac, Linda
Chambers, Renatta
Collins, Keli
Cooley, Debbie
Culbreth, Linda E.
Davidson, C.B.
Davila, Cristina Garza
Davis, Daniel C
Dawson, Owen & Bobbie
Derrick, Barbara
Dickson, William & Susan
Donley, Lori
Doughty, Margaret
Embrace Wellness & Chiropractic, PLLC
Exxon
Fuller, Nancy
Garbacz, Tracie
Garcia, Carol Hanley
Goodwin, Sharon
Grantham, Sandy
Greenstein, Nancy M
Griffin, Linda
Guidry, J. Rylan & Rita R.
Guzman, Viviana
Guzzetta, Gina
Harris, Shakeina
Hawk, Cynthia A.
Hays, Kathleen Patton
Henley, Kay
Henry, Maureen E
Hildebrand, Darlene
Hill, Diane
Hocott, Kim
Holmes, Kerry
Huntington Learning Center
Irmiter, Marita
Jeske, Janice
Keeney, Carol
Kinsey, Barbara
Kolar, Calvin & Seraphine
Larsen, Suzanne


Lebouf, Jamye L
Liger Group Corporation
Liner, Margaret
Long, Wanda
Lopez, Karen L
Main, Lorena A
Maldonado, Vanessa L
Marcott, Ruth
Marriott, Margaret
McWilliams, Johanna & Robert
Merchant, Karen
Miller, Andrew & Kelly
Miller, Elizabeth
Morgan, Terrie
Moritz, Gloria
Newstead, Anne
Newton, Susan
Northern Brazoria County Education Alliance
O'Gorman, Barbara
Palmer, David
Pascarella, Michael
Patton, Roxanna
Pearland Chamber of Commerce
Peterson, Sherry
Phillipp, Maureen
Pollard, Charis Ewing
Pope, Virginia
Ramirez, Patricia
Reddick, Alicia
Reed, Sheila
Reschke, Jane
Riddle, Karen
Robinson, Cheryl
Rohne, Evelyn
Ross, Jessica N.
Safeway
Sanchez, Jennifer
Sandars, Ruby
Shaffer, Keith
Sherrouse, Susan
Snyder, Ann
Sofka, Annette
Stockwell, Sherry L
Sun, Sherwin
Texas Book Consignments
The Brown Foundation, Inc.
The UPS Store #5857
Thibodeaux, Mildred
Thornborrow, E.W.
Thurston, Patrice
Vance, Mary Ann
Vasut, John D
Wadle, Patricia
Waller, Connie
Washburn, David & Cheryl
Weimer, Nanette
Wiggins, Betty
Wilcoxson, Marjorie
Woodard, Byron
Wuenschel, Mary Jo
Zinn, Susan
Zuerner, Janet