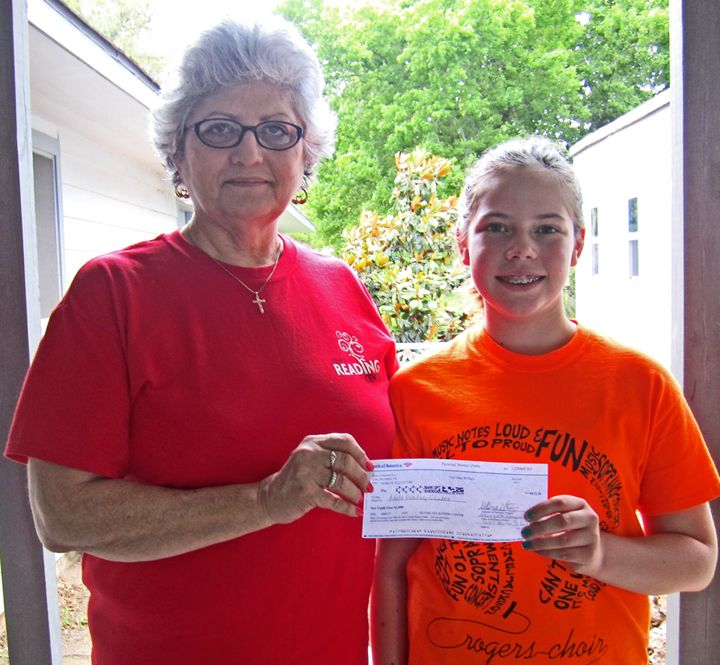 The phone rang and a message was left at the front desk. A mother was contacting the Adult Reading Center but she wasn't inquiring about the programs offered. She wanted to share some good news. Gigi Reynolds was calling about a fundraising project her 10 year old daughter, Claire Reynolds, developed at school. The pride in Gigi's voice was very noticeable, as Claire had raised more than a hundred dollars in only two weeks.
Claire is a young student who couldn't imagine what life would be like without being able to read. With the assistance of her father and, after a lot of research, she decided to raise funds for the Adult Reading Center. After making flyers and posters, sweet Claire was able to talk to each class in hall 5B at Rogers Middle School about the Center and her honorable goal. She not only was able to raise money but also office supplies, a constant need at the Center.
While many might think their donation is too small, Claire believed in her cause and was able to impact the lives of adult learners at the Center.
Another example of a generous donor is Marjorie Nelson. Marjorie donates $25 a month to the Center. By giving every month, her donations total $300 a year. Marjorie supports several organizations every month, and according to her, she wouldn't be able to donate near as much, if she was supposed to do it all at once. "By giving small monthly amounts, the money goes a lot further and it doesn't feel like sacrificing." Marjorie also emphasizes the importance of donating: "I'm not helping the Adult Reading Center. I am helping the community by donating money to help fund the programs offered."
Mrs. Nelson is right. Her donation, as well as little Claire Reynolds' and many other contributors, allow the Adult Reading Center to transform adult literacy learners into self-sufficient wage earners and parents who are actively involved in their children's education. Through the support of the community, the Center continues to offer Adult Basic Education, GED, English for Speakers of Other Languages, Family Literacy, Citizenship Classes, Computer Learning Lab, and Job Soft Skills Training.
There is no such thing as a "too small donation." And donating doesn't necessarily have to mean giving money. Many members of the community donate their time and skills by volunteering as a tutor, at the front desk, assisting with maintenance of the building, or with planning and staffing fundraising events. Giving should be empowering and not limiting because your finances don't allow giving away a big check. Any time you want to give back to the community and impact lives, the Adult Reading Center has its doors open at 2246 N. Washington Avenue, Pearland, TX 77581.