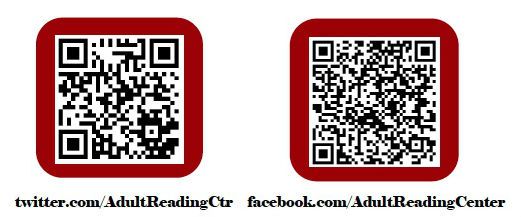 The Adult Reading Center is asking you to take less than five minutes of your day to help them win a social media competition and receive $10,000. The contest is being held by the Barbara Bush Houston Literacy Foundation and has the goal to increase awareness of the crisis and importance of literacy in Houston through social media. You have from August 14 to September 19 to participate. The winners will be announced on September 22.
Many people wonder how they could contribute to our local community, when they can't make a monetary donation. This is the right moment for you and all of your virtual friends and followers to take your phones out of your pockets (or tablets, laptops, computers…) and start supporting literacy. The Adult Reading Center's goal is to have the largest number of likes on its own logo posted on the Center's Facebook page starting August 14, as well as the largest number of retweets of Center's logo shared on Twitter The organization with the highest amount of combined hits, takes the grand prize.
Enter their address on social media or scan the QR Codes below to immediately be directed to their Facebook and Twitter. The Center counts on your support, as it contributes to making their adult learners' dream of literacy a step closer.
Two prizes will be granted in this exciting competition. For first place, a total of 20 iPads with a portable charging station or a $10,000 cash gift will be awarded. Second place is a cash gift in the amount of $2,500. If the Center wins the contest, according to the President and CEO, Mrs. Dale Pillow, they would choose the $10,000 cash gift: "A lot could be done with this grant. We have daily needs and I can give you a long list of them, but we would most likely use it towards building a parking lot. We have a great amount of students and teachers who have to park on the street, or get creative with the spots we currently have."
The Adult Reading Center is the only professional community-based literacy provider in our service area that utilizes volunteer tutors to support its mission of providing instruction at no charge to adults with limited literacy skills. Many of these individuals have difficulty functioning effectively in the community due to poor speaking, reading, or writing English skills.
The Adult Reading Center is an economic incubator and a complete service center using a comprehensive approach that will take adult learners from learning to read, write and speak English to obtaining a GED and a job earning a living wage while becoming contributing members of our community.