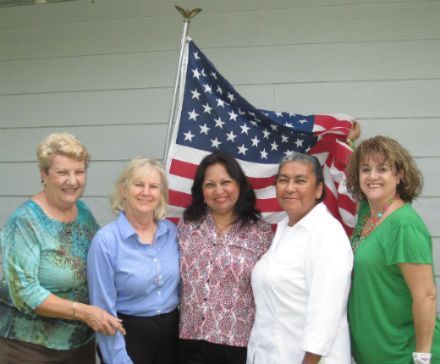 The classes for learners desiring U.S. Citizenship include lessons on American history and civics in preparation for the citizenship exam is volunteer led. Victor Morales is our lead volunteer for the citizenship program. He has assisted numerous individuals in becoming United States citizens. Because of his commitment as a volunteer, Victor was selected in August 2011 by Literacy Texas, the state coalition of literacy providers, as Adult Learner of the Year. In November 2011, he also received the prestigious Ruth J. Colvin and Franck C. Laubach Award for Adult Learner Excellence from ProLiteracy, the national coalition of non-profit literacy providers. For additional information about citizenship classes offered by the Center, call Program and Testing Lead, Erika Pena at 281.485.1000. Further information about becoming a citizen may also be found at http://www.uscis.gov/portal/site/uscis.
Online Citizenship Resources
The US Citizen and Immigration Services, USCIS, Office of Citizenship promotes education and awareness of the rights, responsibilities, and importance of U.S. citizenship. Below are some ways to learn about and access free resources. You can also learn more about the Office of Citizenship's resources available online at the Citizenship Resource Center. For information on naturalization eligibility and the naturalization process, visit the Path to U.S. Citizenship section of the USCIS web site.
Get Email Updates on Citizenship
You can sign up for free USCIS email alerts with important news and information on a variety of topics. We encourage you to sign up for the citizenship and Citizenship Resource Center topics.
Free Online Training Resources
The USCIS offers free online training resources for educators along with lesson plans and activities. In addition, the USCIS offers in-person training workshops. Click here for the workshop schedule and locations.
Register for the Civics and Citizenship Toolkit
A free Civics and Citizenship Toolkit is offered by the USCIS to immigrant-serving organizations that help prepare immigrants for citizenship. The Toolkit contains educational materials that focus on both naturalization preparation and civic learning. Click here for more information on eligibility and to register for a Toolkit.
Support the Citizenship Awareness Initiative
You can help support the Citizenship Public Education and Awareness Initiative. Learn more about the USCIS initiative to raise awareness of the rights, responsibilities, and importance of U.S. citizenship. Find posters, radio and video messages for use in your Community.