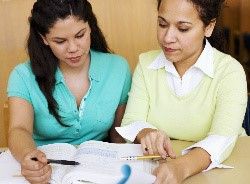 Without the help of volunteers, what we do at the Adult Education Center would not be possible. For us to be able to help as many learners as possible, a large pool of volunteers is crucial. Volunteers help our Center by donating their time, helping to raise money, tutoring our learners and serving as a committee or board members. Because we are open Monday through Thursday from 8:30 am to 8:30 pm, we are in need of volunteers at various times during the day each day. Due to the sensitive nature of working in an environment with adult learners, our organization requires that all volunteers be at least 18 years old. Exceptions to the age requirement will be made on a case-by-case basis. Any volunteer under 18 must provide references for preference volunteer positions. Below you will find a list of volunteer opportunities that are typically available. If you find one of interest, complete the application form below.
Equal Opportunity & Diversity Statement The Adult Education Center is an equal opportunity employer. We provide equal employment opportunities to all persons (including volunteers) without regard to race, color, religion or belief, national, social or ethnic origin, sex (including pregnancy, childbirth, and related medical conditions, sex stereotyping, transgender status, and gender identity), age, physical, mental or sensory disability, marital, civil union or domestic partnership status, past or present military service, family medical history, family or parental status, political affiliation or belief. At the Adult Education Center, we have zero tolerance for any form of discrimination or harassment of our employees and volunteers. Our dedication to ensuring a safe and healthy workplace free of discrimination and harassment is outlined in our volunteer handbook. Reasonable Accommodation & Modifications Notice Federal law requires employers to provide reasonable accommodation to qualified applicants with disabilities. Let us know if an accommodation to apply for a volunteer assignment or to perform your assignment is required by contacting Human Resources. Reasonable accommodation includes modifications to the application process or employment/volunteer procedures, providing documents in an alternate format, requiring a sign language interpreter or using specialized equipment. If you need an accommodation due to a disability to apply for a position at the Adult Education Center, call us at 281.485.1000 or send us an email at reasonableaccomdations@adulteducationcentertexas.org.
Volunteer Opportunities Available
The Adult Education Center needs volunteers in a variety of capacities. We are in need of the following:
Tutors for Adult basic Education (Math/Science/History)

Tutors for HSE (formerly GED)

Tutors for Barton (teaching to read)

Administrative Assistants (assist office staff, filing/answering phones)

Community Outreach (set-up at events to reach new volunteers and students)
We have two major events each year, the Red Hat Literacy Luncheon in March and the Annual Fund Campaign June thru December. During the event season, the following volunteer opportunities are available:
Event day Volunteers (set up and clean up)

Committee Members (event planning and fundraising)
To apply for a Volunteer position with the Adult Education Center, please fill out the Volunteer Application and Background Check Release/Authorization form.