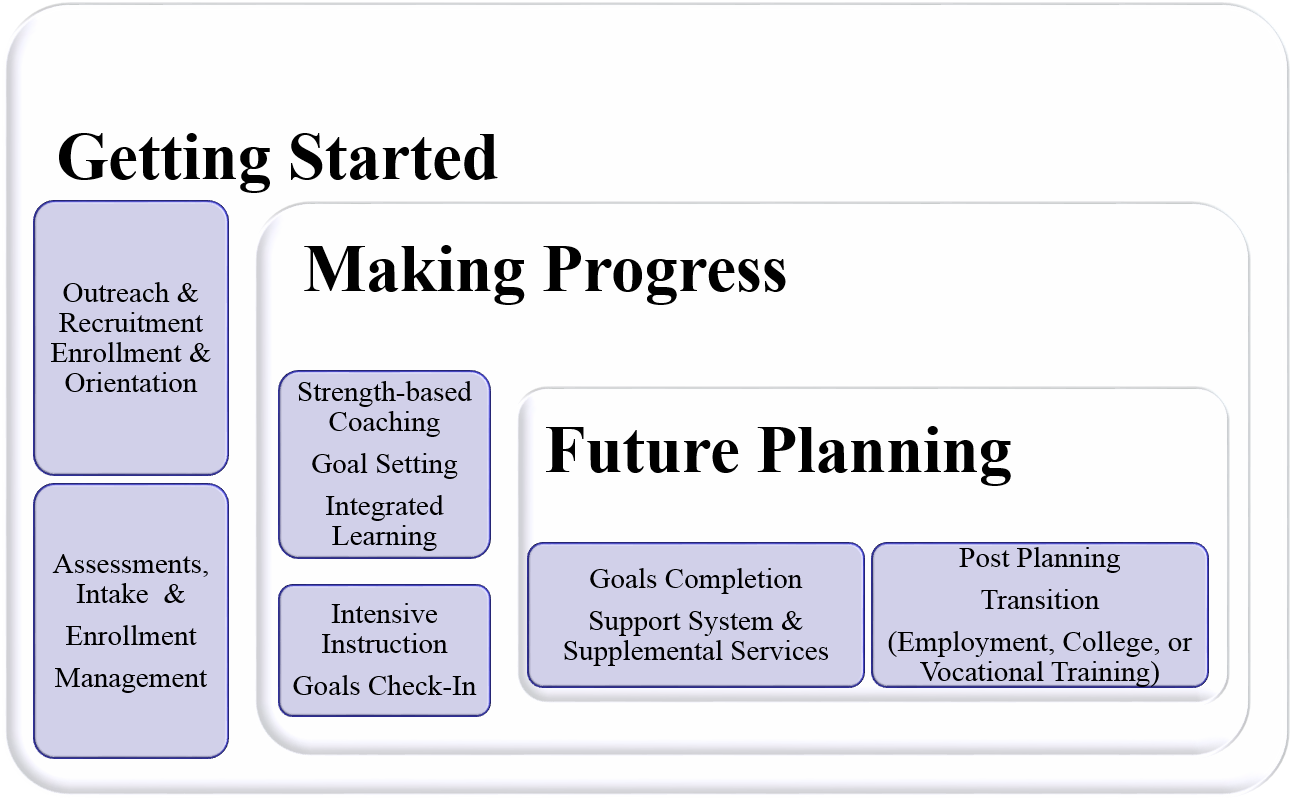 Take the First Step Today!
Thank you for your interest in the Adult Education Center's programs and services.  
By completing the brief application, you certify that the information provided in this intake form and all related documents are accurate. If the information provided is found to be false, your application may be canceled or terminated.
You agree to allow the Adult Education Center to verify the information. You will not hold the Adult Education Center liable for information discovered during this verification process.
Please note that the completion and submittal of the intake form do not reserve a spot for you in any of the Adult Education Center's programs or access to services. The eligibility, enrollment, testing, and assessment process must be completed before you are placed into a class. 
Step One: Intake Form

Complete the Intake Form and a staff person will follow-up with you to schedule an appointment for an orientation and initial assessment.

Step Two: Orientation & Enrollment Packet

After you have been contacted and scheduled an appointment. During orientations, you will complete enrollment forms and complete testing and assessment. Follow-up appointments may be scheduled. You can complete the orientation and enrollment forms before your appointment or during the session. Orientations are offered via one-on-one or group settings.

Group Orientations Morning Sessions are available via in-person or virtual: 9 am - 12 pm (To be announced).
Group Orientations Evening Sessions are available via in-person or virtual: 5:30 pm - 8:30 pm (To be announced).
Individual Orientations are scheduled on a case by case basis.

When completing orientation, you will need to bring items to complete your enrollment in the Adult Education Center's programs and services.

Step Three: Testing & Assessments

An important component of the orientation and enrollment process is completing an assessment.

If you are interested in enrolling in our High School Equivalency Classes (formerly GED) or the Entrepreneurship Training (General), you will complete the Tests of Adult Basic Education (TABE). The TABE is a comprehensive tool used to determine adult learners' skill levels in Reading, Language, and Math.

TABE Exam Tips provided by JOB TEST PREP

Read test instructions carefully.
Plan your time – answer the easy questions first; then return to the harder questions if you have time.
Keep in mind that TABE does not present trick questions.
Practicing on sample tests with questions that are similar to TABE test questions, is geared to more accurate TABE test answers.
Change an answer only if you are certain that your original answer is not correct.
Read each question carefully.

If you are interested in enrolling in English as a Second Language, Civics, Citizenship, Entrepreneurship Training (Civics) Classes, you will complete the BEST Plus 2.0 and BEST Literacy. BEST Plus 2.0 is an oral interview designed to assess your English language skills. BEST Plus 2.0 is a combined test of listening and speaking skills. BEST Literacy tests reading and writing skills in everyday situations specifically geared for adult English language learners.

Step Four: Class Placement & Structure

The Adult Education Center offers a class schedule within semesters: Fall, Spring, and Summer. We offer morning, afternoon, and evening classes. Class ratios range from 12 to 24 adult learners per class, depending on the class type, level, and adult learners' initial test scores, skills, and needs. We also provide tutoring and distance learning options as appropriate.

Wait List Process

In the event, the Adult Education Center classes are full or at capacity. You will be placed on our waiting list. While on the waiting list, you will receive periodic updates on your status via telephone, email, or postcard. An option is to enroll in tutoring and distance learning offerings until there is class availability (also depends on capacity).
Register for Classes Here