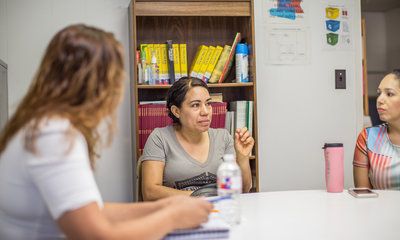 For learners who need assistance in reading and writing, we offer instruction in a non-threatening, supportive, self-paced environment with a one-on-one volunteer tutor or in a small group. For more information on our classes or to schedule your orientation, call the Adult Education Center at 281.485.1000.
Unique in our area, we teach adults with dyslexia and related learning disorders how to read and write using the Orton-Gillingham based Barton Reading & Spelling System designed for one-to-one multi-sensory instruction by volunteer tutors or professional instructors.
Information for Active Learners
Many learners active in the adult basic education program have access to the online Aztec Learning System. If you have been assigned a login id and password, click here to log-on to the Aztec Learning System. Use this quick reference guide for assistance in accessing the online learning material.